Milburn Media consults to a range of clients including health, business and rural groups, and professional and educational bodies. Jane is a well-connected but unaligned and independent profession with a broad understanding of politics and industry at a national level. Jane has a long-standing commitment to the farming and health sides of food (agricultural sector) and an established network of rural and media contacts.

Writing and editing

Jane writes and edits media releases and other material for clients, using an active, concise and logical writing style.

Issues' management and reputation management
As communications manager for Diabetes Queensland between 2010 and 2012, Jane had carriage of all publications, media, events and campaigns. As part of this role, Jane implemented her vision for a Health Media Club, secured a new health and wellness category in the Queensland Clarion Awards run by the MEAA, and brokered the 612 ABC Swap It challenge.
As media manager for AgForce during 2008-2009, Jane was working on Every Family Needs A Farmer rural image campaign and overseeing media advocacy across a broad range of issues including new regrowth and reef regulations.
In 2005-2007, Jane developed a sustained media and political lobbying strategy with successive Australian Dental Association Queensland Branch presidents which eventually led to the Queensland Government moving to introduce water fluoridation, decades after it became commonplace in other capital cities.
Ongoing and since 2002, Jane has led the sustained public awareness campaign which was part of an ongoing four-pronged Australian Banana Growers' Council strategy to ensure Australian industry concerns about disease risks of Philippine banana imports were appropriately incorporated into the Import Risk Analysis process.
In 2005, Jane undertook high-level media advocacy work for the Queensland Citrus Growers Inc which led to compensation being awarded to central Queensland citrus growers impacted by the citrus canker incursion in Emerald from sources unknown.
In 2005-2007, Jane developed and implemented an integrated communications strategy for the Leading Sheep project which was acknowledged by all partners – Australian Wool Innovation, Department of Primary Industries and Fisheries, and AgForce.

While working for the Minister for Primary Industries, Jane helped develop the media strategy to manage the discovery and control of fire ants in south-east Queensland in 2001.

Jane believes in providing credible, accurate and timely information to the media in order to maintain client integrity and profile.


Profile raising
Recognising, creating and implementing media opportunities comes with experience and knowledge of how the news cycle and newsrooms operate. Being proactive and timely in providing information is more likely to bring success.


Design and publishing
December 2009 - A Salute to Leadership (PDF)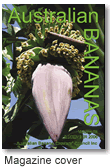 Jane uses InDesign to publish newsletters and magazines for clients as required. Jane is editor of the biannual Australian Bananas magazine.
December 2006 – Australian Bananas magazine.
This edition focuses on the north Queensland banana industry's efforts to rebuild after Cyclone Larry left it on its knees.
Photos and stories by Jane Milburn can be viewed on these page extracts (PDF - 2.3MB)

August 2006 – Drought Survival Stories 1 (PDF 1.1MB), Drought Survival Stories 2 (PDF - 1.5MB).

These e-books published for Leading Sheep enable Queensland sheep producers to record their drought experiences and learnings.

June 2006 – Australian Bananas magazine.
This issue captures the turmoil of the north Queensland banana industry following Cyclone Larry which wiped out 90 percent of banana plantations in March this year.
Sample pages of this edition can be viewed here (PDF – 3.7MB).

December 2005 - Australian Banana's magazine -
View the first 11 of its 52 pages here (PDF - 2.9MB).
November 2005 - Australian Banana Growers' Council - Levy newsletter
View (PDF - 4MB)


June 2005 - Australian Bananas magazine
View pages 1-16 (PDF - 2.9mb). Visit www.abgc.org.au

October 2004 - Commerce Queensland's Leading Business Magazine - View (PDF)

September 2004 - Australian Banana Growers' Council imports newsletter - View (PDF)

June 2004 - Australian Bananas Magazine - View (PDF)


May 2004 Australian Banana Growers' Council imports newsletter - View (PDF)

April 2004 - Australian Banana Growers' Council imports newsletter - View (PDF)


Business cards
Jane creates distinctive business cards for clients seeking a unique presentation style. The cards are hand processed and can be produced in small quantities. View sample.
Textile media creations
Jane produces Boxed Angels and other textile artwork as gifts and for charitable donations. View sample

Jane's Christmas decorations were featured in the Our House liftout in The Courier-Mail in December 1999. View 1 and View 2.
Jane enjoys creating OutThere jewels when time allows.
Click on above images for larger version.