Jane Milburn has wide-ranging experience in the media, including print, radio and some television.
After completing a Bachelor of Agricultural Science at The University of Queensland, Jane began her journalism career as an ABC rural radio reporter for the ABC in Victoria, and later moved to north Queensland as an ABC rural television reporter.
Jane then switched to newspapers, spending five years as a writer and sub editor at the Townsville Bulletin before relocating to Brisbane and working for eight years at The Courier-Mail.
Political experience was gained as a ministerial media adviser in the Primary Industries portfolio 2000-2001.

Jane established her media consultancy in 2002 - and over the past decade has been engaged by various education, rural and health groups to manage media and advocacy work.

All Jane's work comes from referrals … satisfied colleagues, contacts and clients, bringing new and repeat business:
"You've done a stellar job of advancing your Health Media Club from concept to reality."
Anne Savage, Cancer Council Queensland, 2012
"Jane has a long history with the Rural Press Club and has done an excellent job representing the interests of the Queensland members on a national and international basis."
Genevieve McAulay, Rural Press Club president 2011
"You have been a wonderful recipient of the Rural Press scholarship."
Grant Cochrane, Fairfax Media, September 2010

"That is GOLD. Well done."
Troy Fischer, ARLP project team member, July 2010

"Fantastic story. You seem to have captured it all very well and it has a great feel to it – I am most impressed."
Dr Lesley Fitzpatrick, CE, Australian Rural Leadership Foundation, September 2009
"Jane was a dynamic leader who has left a lasting legacy, putting the Rural Press Club on an excellent footing to continue into the future. She was valued for her "can-do" attitude and her creative ideas which she then put into action. Her pizzazz helped attract headline speakers which in turn raised the club profile. Under Jane's stewardship, the club member and financial base was strengthened, paving the way for the appointment of a paid part time administration officer. This has revolutionized the professional way we do business."
Gordon Collie, Rural Press Club life membership nomination, October 2009
"Congratulations Jane – you have nailed it! You have done an outstanding job and I'm thrilled with the result. Well done."
Tony Heidrich, ABGC CEO, November 2009
"Commitment to primary industries, strong communication skills and leadership skills. Good operator. Committed to image of agriculture."
Judge's comment on Jane as a Queensland Rural Women of the Year finalist, December 2009
"Thanks again for your work during Congress – it's always reassuring to know you are on the job."
Tony Heidrich, ABGC CEO, 2009

"Fantastic work Jane, thanks again for your huge effort on this."
Mike Mooney, ARLP team member, 2009

"The work you did for AgForce, and indeed for me, in 2008 was immeasurable. I can't thank you enough for what you have done."
Peter Kenny, past president AgForce, 2008

"The article about bush volunteers in the last issue of OUTBACK was a fitting tribute to their outstanding contribution and is a credit to journalist Jane Milburn."
Eoin Johnston, Alstonville, NSW, 2008

"Love your media release, wish I'd been that clever."
Sally Nicol, colleague, 2008

"Beautifully written and thanks for your great help."
Lee Kernaghan, 2008

"I have enjoyed working with you so much Jane."
Kylie Rutledge, Leading Sheep, 2008

"Congratulations on having played such a pivotal role in creating an atmosphere where this can happen."
Robert McCray, ADAQ, 2008

"Thanks very much for all your work on water fluoridation over the past few years. Your media expertise and professionalism has added a whole new dimension to the fluoridation campaign."
Michael Foley, ADAQ, 2007
"Jane has done a remarkable job and the continued strength of the Rural Press Club is legacy to her fine performance and high standards. The club continues to shine as a vehicle for connecting the city to the bush. It's a class organisation that serves an important role in holding elected officials responsible, educating the public, and linking people who want rural communities to have a strong voice."
Tuck Thompson, Rural Press Club vice-president, 2007/08
"Jane is a highly regarded professional and did a sterling job of covering a complex and sensitive topic."
Mark Muller, editor, OUTBACK Magazine, 2007

"Jane, congratulations on the organising. It was flawless. Very professional.
Martin Breen, advisor to Senator Kerry O'Brien, Shadow Spokesman on Primary Industries, Fisheries and Forestry, October 2007

"Great to hear. Must have been the quality of the campaign."
Mark Phelps, editor, Queensland Country Life, 2007

"Jane you always deliver for me and I'm very pleased to have been able to work so closely with you on all of the momentous issues the banana industry has dealt with over the last five years."
Tony Heidrich, chief executive officer, Australian Banana Growers' Council, 2007

"Thanks for all the effort you are putting into this for us. Much appreciated.
Scott Thompson, managing partner, Anderssen Lawyers, 2007
"It is a great piece of work Jane, beautifully written and woven with substance and stories."
Mary-Louise Conway, University of New England 2006
"Your story looks really good."
Mark Muller, editor, OUTBACK Magazine 2006
"Thanks for the great press release Jane … thanks for all the good work you are doing for ADAQ."
Dr Martin Webb Australian Dental Association Queensland Branch President 2007
"I would especially like to thank Jane Milburn for her help with all aspects of media."
Dr Robert McCray, ADAQ President 2006
"Story reads very well … thank you"
Anna Reynolds, Focus editor, The Courier-Mail 2006
"It is really good work, thank you"
Joelene Alfred, Intellection Pty Ltd 2006
"… the frozen banana media release was excellent. Job well done Jane, under difficult circumstances."
Tony Heidrich, CEO, Australian Banana Growers' Council 2006

"You're a legend. That's terrific material. Thanks very much for your help."
Ashley Walmsley, editor, North Queensland Register 2006
"Thanks Jane … you guys have handled this matter particularly effectively."
Ministerial advisor, Office of the Minister for Health, 2006
"That's excellent, thank you Jane."
Steve Rous, Department of Primary Industries and Fisheries, 2006
"Well done Jane for your persistence in getting this up."
Peter Hanrahan, Leading Sheep project advisory panel, 2006
"That's a great story, thanks"
Margaret Bridgeford, CEO, Resource Consulting Services, 2006
"Jane, thank you for this. I very much appreciate your continued assistance."
Bill Anderssen, Anderssen Lawyers, 2006
"I've just read through your articles and wanted to say they look great. Thanks for getting these together with so much detail in such a short timeframe."
Andrea Howe, Commerce Queensland 2006
"Looks fab Jane, go for it"
Veronica Carew, AgForce Queensland 2006
"Jane, that's brilliant … I love your work."
Tony Heidrich, ABGC CEO 2006
"Many thanks for all your good work"
Kerry Herron, founder, Herron Todd White 2006
"You're a bloody media hound!"
Andrew Macarthur, Plasvacc Pty Ltd, 2006
"Thanks Jane. A girl who always meets her deadline."
Margaret Burke, Director, UQ Development Office
2005
"Thanks Jane for all your help."
Dr Michael Foley, ADAQ president
2005
"Great idea Jane. That's why I love having you on my side."
Tony Heidrich, ABGC CEO
2005
"Jane, thank you for a job well done."
Antony Allen, Avocados Australia CEO
2005
"Australian Bananas magazine is an excellent production with a great deal of interesting, informative information. Congratulations, keep it up."
Yvonne Fahl, Carnarvon Growers Association 2005
"Congratulations on another highly successful year, both for the Rural Press Club and the stunningly successful Save the Aussie Banana campaign."
Jo Shoebridge, ABC Landline
2005
"Jane, it has been a thoroughly enjoyable experience working with someone of your experience and knowledge of this area. The breadth of your contacts is simply astonishing and the positive reaction and co-operation you receive from them is a good yardstick of the great esteem in which you are held by your peers. You deserve it."
Ross Boyle, CEO Bananas New South Wales 2002
"Many thanks for all your help on Wednesday and the electronics, particularly the ABC, were just terrific."
Former politician Tim Fischer, now author and AACo board member 2002

"The media roll up was excellent and I can't thank you enough … the whole team appreciates the doors that have been opened and the increased recognition of what is a good program."

David Clarke, Water for Profit program manager 2003
"When you hire Jane, you get the full package … she is dynamic, creative and persistent"
Gary McCudden, Chairman ABGC 2003
"Jane, thank you for the excellent job you have done for us over the last few days. It has been very much appreciated."
Jeff Bidstrup, Ag Biotech Australia 2002
"It's excellent."
Tom Brennan, partner, Corrs Chambers Wesgarth 2002
"I don't know what we would have done without you. We not only got an outstanding media consultant but we gained a friend as well."
Tony Heidrich, CEO, ABGC
" … a pleasing increase in media interest generated with the unflagging enthusiasm of Jane Milburn."
Gordon Collie, 2002 Rural Press Club president
"You're a legend … I couldn't have done it better myself."
Peter Lewis, ABC Landline, Rural Press Club president 2003
"Well done. We should do something and we will."
Alan Jones, 2GB 2004
"Jane many thanks for your hard work … it is such a joy to work with you."
Peter Howard, food and wine commentator 2004
"Go for it mate, I have total trust in you."
Dave Argus, Commerce Queensland 2004


"I've just read your Stanbroke article - very well done, no wonder you won an award."
Fiona Lake, photographer 2005

"That's excellent Jane."
Chris Simpson, Queensland Citrus Growers Inc 2005
"Jane, that is good thanks."
Peter Allen, State Manager Queensland, Visy Board Pty Ltd 2005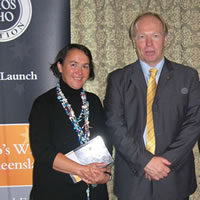 Who's Who in Queensland
Jane is proud to be one of 4000 Queenslanders included in the inaugural Who's Who in Queensland launched by Premier Peter Beattie recently.

Photo: Jane with Premier Beattie at the launch.
| | |
| --- | --- |
| | Jane with Malcolm Turnbull at Rural Press Club luncheon. |